We live in a country where the winter season is very fun and has a very important potential in winter tourism. So, where we can have winter holiday in Turkey? In fact, we have compiled the basic information about the 10 winter tourism center in Turkey. Choosing one of these 10 centers will not be easy for those who think about winter holiday.
Erzurum, Palandoken

Palandoken having a capacity of 2466 beds, it is Turkey's largest ski resort. The most attractive feature of the center is undoubtedly that it has the second longest and steepest ski slope in the world. Another important advantage is that the Palandoken Winter Sports Center is only 7 km from the city center and is easily accessible. The popularity of the center is constantly increasing thanks to the international organizations it hosts. Let us remind you that Erzurum will host EYOF 2019 next February.
Bursa, Uludag

Uludag is the second largest winter sports center in Turkey and the most popular ski resort in terms of bed capacity, location and facilities. Uludag ski resort is one of the most suitable centers for Alpine and Northern skiing, Tour skiing and Helicopter skiing. It is also one of the most ideal winter centers for colorful nightlife and short holiday in winter.
Bolu, Koroglu

Koroglu can be described as the perfect meeting of white and green. The long winter season and snow quality are the main advantages of the Koroglu ski resort. For those who want to enjoy the green and white, Bolu is right next to us.
Kayseri, Erciyes
It is ideal for every level of skiing enthusiasts and has a wide range of runway options. The fact that there is a water reserve for artificial snow production and that it is 25 minutes away from the airport is one of the important advantages of Erciyes Winter Sports Center.
Kastamonu, Cankiri

One of the most important features of the center, which is located in Ilgaz National Park, is the ability to ski at night. This magnificent center, which attracts attention with its natural beauties as well as winter tourism, is waiting for its visitors.
Kocaeli, Kartepe

Kartepe is an ideal winter holiday destination for those looking for a winter holiday close to Istanbul (only 115 km away from Istanbul) with its slopes, modern ropeway and chairlift systems and artificial snow systems.
Kars, Sarikamis
Sarikamis is one of the most suitable regions in the world in terms of snow quality and ski slope, with its magnificent crystal-covered nature. Another important advantage of Sarikamis is that it has a long season for skiing between December and April.
Isparta, Davraz Mountain

There are runways suitable for both amateur and professional skiers in the center where northern and alpine skiing, skiing, snowboarding, mountaineering, botanical observation, paragliding and trekking can be done.
Sivas, Yildiz Mountain
Yildiz Mountain, which was completed in 2015, is one of the most recent ski resorts in Turkey and its potential is constantly improving.
Erzincan, Ergan Mountain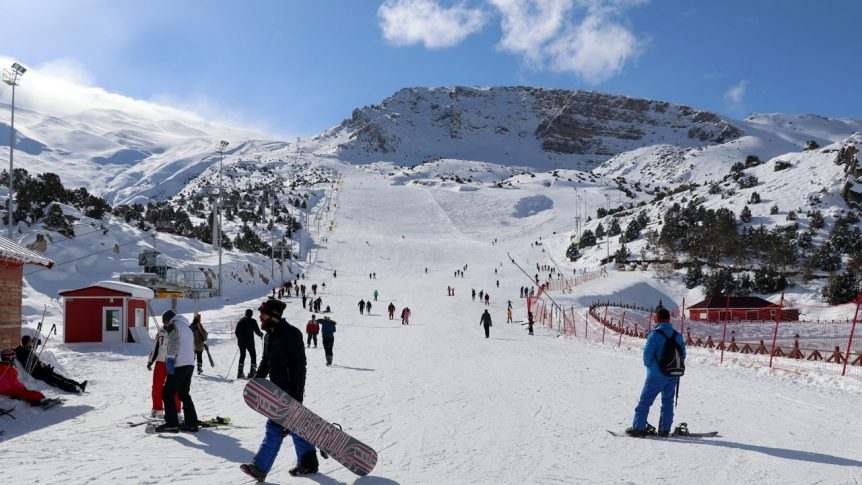 Ergan Mountain, which is snowy 180 days a year, has a serious tourism potential due to its location just 12 km away from the city center and it is expected to become a major winter sports attraction center with the completion of facilities in the center.
Our previous article Tourism in Turkey we also recommend that you read our article titled.