Turkey, as well as one of Europe's most popular tourist cities attracting Antalya Nightlife, in addition to the natural beauty of life with endless entertainment welcomes millions of visitors each year. Antalya is the number one holiday destination for Russian tourists especially for everyone! You can find night clubs that are entertaining to the first light in the morning, small concerts for those who like live music, or rock-filled rock bars for every taste.
Antalya Nightlife
Antalya, which is visited by 5 million tourists in the summer months, which is close to 3 million foreign tourists, is a character that makes other European holiday centers jealous! The entertainment and accommodation facilities that are increasing day by day seem to increase the quality of Antalya Nightlife even more. It is a very attractive option to take a holiday in Antalya with early booking opportunities specially prepared for tourists.
Fun Centers Kemer and Alanya!
There are many wonderful regions in Antalya which are filled with local and foreign tourists especially in summer months. The most intense areas after the city center are; Kemer, Alanya, Side and Kaş attract attention as. Among them, Kemer and Alanya are separated from other regions with their fast and mobile entertainment life. With the SunExpress Antalya Flight Ticket, you can easily get to the tourist area by land route within 1.5 – 2 hours after the Antalya Airport.
The Kemer, Alanya and Side districts are a beautiful area full of world famous 5 star hotels! These 5-star hotels, especially the cheap prices for foreign tourists, Antalya's summer in the summer is intensely preferred by tourists.
The fact that a region is packed with foreign tourists is undoubtedly influencing the entertainment world! Although 5-star hotels have their own night clubs, entertainment centers in the center are preferred.
Kemer Night Life Clubs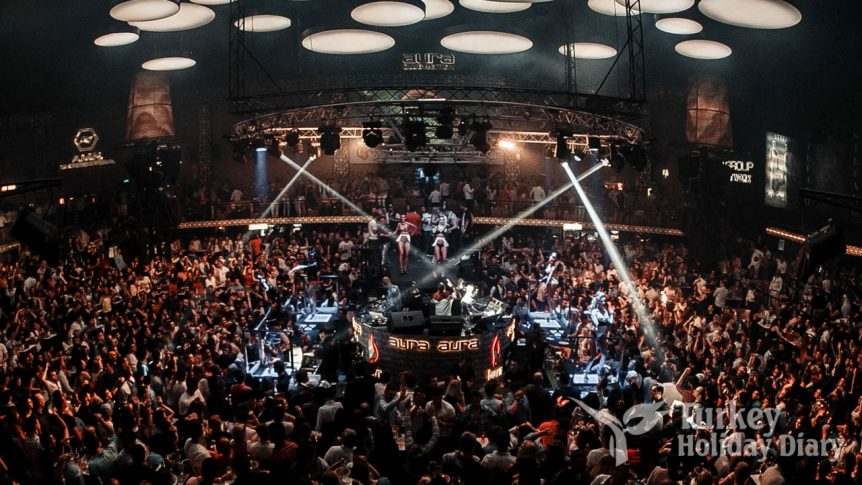 In Kemer region, Aura Club, Club Inferno, Moonlight Arena, Monte Cristo Disco and Jest Disco are the most popular places in this region! All night clubs in the Kemer district center are a paradise for foreign tourists! Inferno, in particular, is more appealing to a classy audience.
Alanya Nightlife Clubs
In the Alanya region, Club Hollywood Alanya, Queens Garden, Havana Club, Las Vegas Alanya, Auditorium Club and Sunflower Bar attract attention as Alanya night clubs. It is possible to have fun late at night in the clubs which are filled with tourists almost every night during summer season! Especially after 12pm, you can enjoy your holiday in places that attract more attention. Also, remember that beach clubs, which are full of daytime, are full of separate fun at night. It is quite easy for those who want to spend the night entertainment on the coast, to join different conceptual parties.
Antalya Nightlife – Kaş Night Life
Antalya's other tourist center is undoubtedly the town of Kaş! Kaş, full of charming natural beauties, is the first choice for those who want a romantic holiday. You will forget all the tiredness and stress of the year in the region that is full of tourists who are aware of the beauty of Kas and who takes your backpack. You will not want to end your holiday in Kas, which attracts attention with its restaurants where you can experience Mediterranean delicacies and boutique bars where you can taste different cocktails.
If you want to have a fun holiday with your loved ones, Antalya is like a holiday town you are looking for with all its means! Especially in the winter months when summer is not over, you will be fully satisfied with the hot weather in the city where the people entering the sea are shown in the news. Enjoy the holidays in Antalya Nightlife, where the indispensable details of summer months are combined with the night life of the sea and the sun!
Our previous article Alanya in our article titled alanya, alanya guide travel ve holiday in alanya provides information about.